Steven with client Kerin Burns
My name is Steven Albaranes and I was born in Rochester, New York. I moved to beautiful San Francisco, California on January 7th 1977. I remember that day vividly. It was freezing cold in Rochester and it was tee shirt weather in San Francisco. I fell in love instantly. I found a career as an outside sale representative for a company called SAFILO Eyewear selling Italian Eyeglass frames all over California directly to Optometrists and Opticians. It was a very successful 14 year career.
In December of 1989, while visiting the Academy of Sciences in Golden Gate Park, I saw a beautiful butterfly exhibit of tropical exotic butterflies and became fascinated by the beauty of these amazing butterflies. Although I had no desire to collect them, I did think that they could be arranged creatively and displayed as works of art.
While visiting the Academy of Sciences, I learned that butterfly breeding farms existed overseas. I wanted the butterfly art that I intended to create with these exotic butterflies to be the very best quality. I insisted on acquiring only the highest level of quality. "A/1 Museum Quality". I found that the clear Acrylic Lucite displays were the very best way to show off my beautiful exotic butterflies. Also, the butterflies displayed in these clear acrylic displays have the appearance of flying around your home. I call it "Sustained Motion". They're not really moving but they appear to be flying. It's a pretty cool effect..
After a while as a hobby, it soon became my lifetime passion and full time business.
I have thousands of wonderful clients in my 30 year career. This image is of one of my favorite clients, Kerin Burns. Thank you Kerin for selecting my butterfly art to grace the walls and table tops of your beautiful home. 
Please check out my other website at www.SRAphotos.com. My second passion is Landscape Photography. I have been photographing mostly the incredibly beautiful San Francisco Bay Area where I live.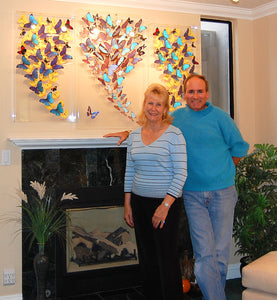 Decorate your Home or Office with the worlds most beautiful exotic butterflies.....
The Exotic Butterflies that I use for my displays are purchased from Commercial Butterfly Breeding Farms located in South America, Indonesia and the Philippines to name a few. 
None of my butterflies are captured or killed for my art nor are any of them on the endangered species list. With their life spans being approximately two to three weeks, they flourish in their natural enclosed surroundings. The butterflies mate, lay their eggs and soon die a natural death on these farms. The workers then pick up the butterflies and rate each one for its quality. They are sold in varing degrees of quality. I purchase only the best conditioned, highest quality " A/1 Museum Quality" butterflies that the farms offer.
For over 30 years I have been designing exotic butterfly displays and I make each one from beginning to end. My goal is to offer exotic butterfly displays that anyone would be proud to display in their home or office.
Thank you, Steven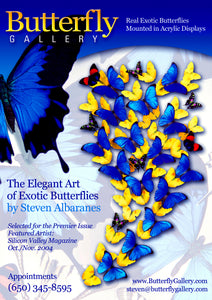 * Custom Designs: 
If you would like to discuss a Custom Design, please feel free to contact me to discuss your needs. Click here to see a portfolio of custom design work that I've done for a few clients including   Tiffany & Co. - San Francisco Union Square and Neiman Marcus - Palo Alto.
Windows at Tiffany & Co. Union Square, SF California
Thank you for visiting my Butterfly Art Gallery.